Honor of Kings: RED Canids vence campeonato
RED Canids vence a 2022 Honor of Kings International Championship Brazil Qualifier
A RED Canids Kalunga é campeã da 1ª edição do 2022 Honor of Kings International Championship Brazil Qualifier. A premiação total foi de US$ 65 mil (cerca de R$ 340 mil na cotação atual), e a equipe garantiu uma vaga para o mundial no KIC2022, em que veremos os times competirem pela premiação total de US$ 10 milhões (mais de R$ 50 milhões), na Coreia do Sul, em dezembro.
Lembrando a magia de levantar mais um troféu 🥹

Agora é representar o Brasil no Mundial! Alô Coreia, tamo chegando 🛫🇰🇷 pic.twitter.com/rJy0P4lDhu

— RED Canids Kalunga (@REDCanids) October 31, 2022
Vivo Keyd perdeu a sua invencibilidade na competição e ficou em 2º lugar, enquanto o Corinthians e a Black Dragons ficaram empatados em 3º lugar.
Premiação:
1º Lugar: RED Canids Kalunga – US$ 14 mil (mais de R$ 72 mil) + Vaga para o KIC2022
2º Lugar: Vivo Keyd – US$ 10 mil (mais de R$ 50 mil)
MVP: Dani da RED Canids Kalunga – US$1 mil (mais de R$ 5 mil)
O time da RED Canids Kalunga irá competir no KIC2022, que acontecerá de 3 a 30 de dezembro na Coreia do Sul, podendo levar US$ 250 mil (mais de R$ 1,3 milhão) para casa, e o prêmio pode ser ainda mais alto com base em seu desempenho no campeonato.
Sobre dificuldades na competição, Alê "Mist" afirma: "Acredito que todas as dificuldades que tivemos foram mínimas. De uma série para outra, na fase de grupos e até mesmo na Final, os times algumas vezes se preparam um pouco diferente do que a gente havia imaginado, mas por sermos um time bastante adaptável, conseguimos consertar na hora."
"Só queria agradecer à torcida, por tudo que fizeram desde que entramos na RED. Estão todos os dias apoiando, mandando mensagem, interagindo bastante, são uma torcida incrível. Esse título também é deles, e eu só tenho a agradecer", diz Dani, MVP da RED Canids Kalunga.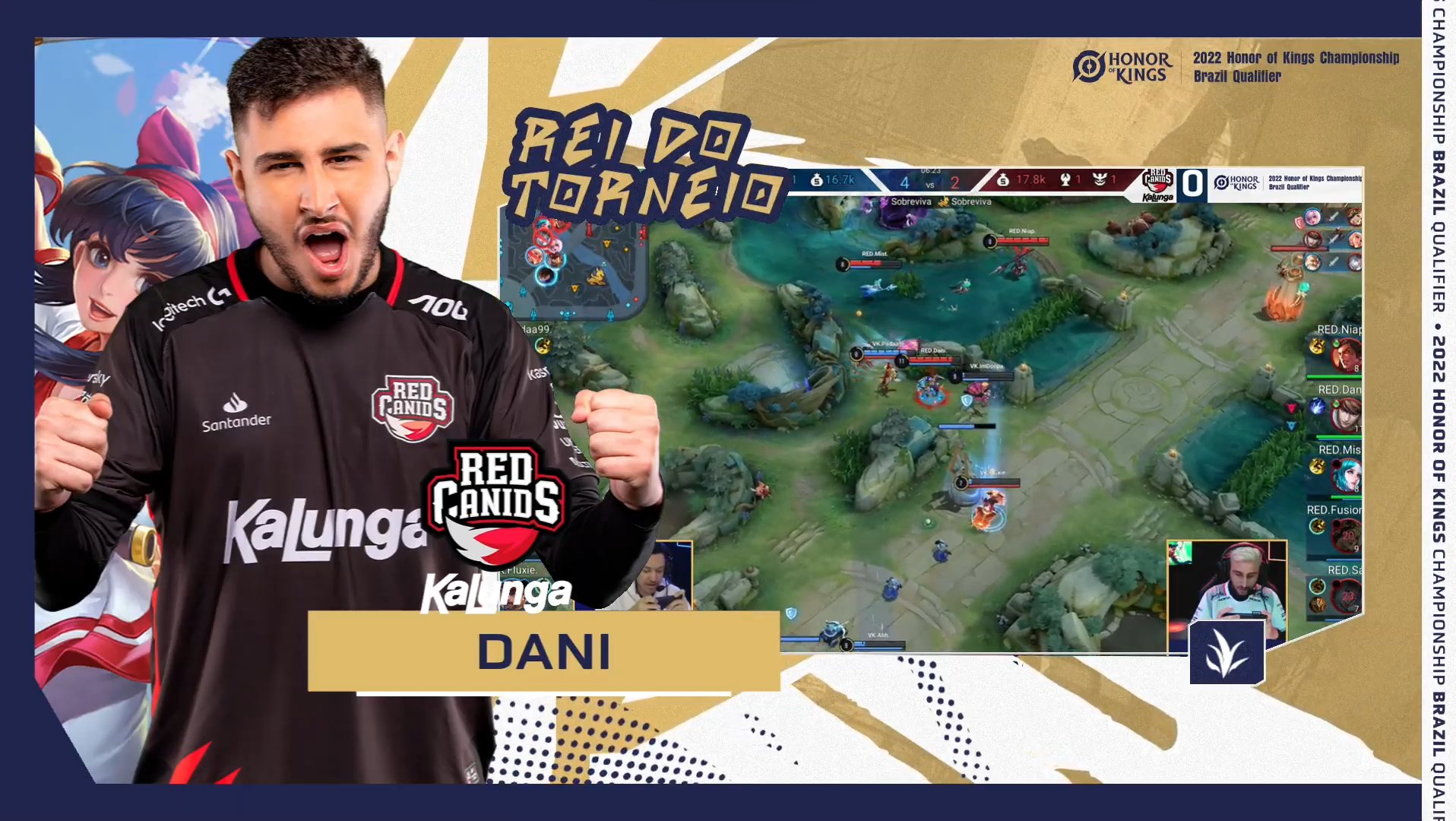 O campeonato foi apresentado por Maah Lopes, com narração de Toboco, análise de Waster e comentários de Kurama nos canais do YouTube, Facebook e Twitch do Honor of Kings Brasil.
E para ficar por dentro de todas as novidades de jogos, música, filmes e séries, acompanhe o Multiverso+ nas redes sociais: Facebook, Instagram e Twitter.
Leia mais:
Copa Elite Six: W7M são os campeões
Luva de Pedreiro é o primeiro embaixador da Loud
BR6: Final do campeonato será na CCXP